Click and shop here. It's easy, it's fast, it's safe !

Planning to buy a house, go shopping or want to travel?  Or, just listening to old sweet music, login to thesalvogroup.com
© 2011  www.thesalvogroup.com All Rights Reserved.

Except for names, reports, data, pictures, etc which are local in content, most of the articles, pictures and others herein are standard information provided by the Order of the Knights of Rizal,  National Headquarters, other chapters worldwide, contributors and friends as allowed.

This website is created as a gift to the Jersey Chapter of the Knights of Rizal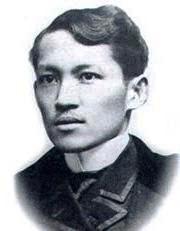 Order of the Knights of Rizal


Order of the Knights of Rizal

The Knights of Rizal Worldwide

Press Releases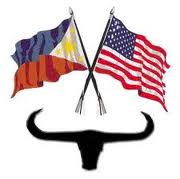 The highest officials of the Knights of Rizal conferred the fifth degree of knighthood on His Excellency, President Benigno S. Aquino III, President of the Republic of the Philippines. The "Knight Grand Cross of Rizal" is the same distinguished decoration awarded posthumously to his father, the late Senator Benigno S. Aquino Jr. on December 30, 1986.

The roster of awardees of this decoration includes past Philippine presidents. Prominent personalities have also been so honoured: King Juan Carlos of Spain, Henry Kissinger of US, Anwar Ibrahim of Malaysia, Dr. Daisaku Ikeda of Japan, Juan Ponce Enrile, Claudio Teehankee, Jose S. Laurel III, Claro M. Recto, Jose W. Diokno, Carlos P. Romulo, Lorenzo M. Tanada, Jovito R. Salonga, Feliciano Belmonte and others.

At the ceremonies held 17 February at the Manila Hotel, Sir Sammuel Samuela, KGOR, supreme chancellor read the citation, which was handed to the president by Sir Emilio S. Yap, KGCR and Sir Roger Quiambao, KGCR, chairman of the 2011 International Assembly and Conference on Rizal and former supreme commander.

The sash and medallion of the Knight Grand Cross of Rizal were presented to His Excellency by Sir Alfredo Lim, KGCR, Honorable Mayor of the City of Manila,  Sir Reghis Romero II, KGCR, deputy supreme commander and Sir Jeremiah Singson, KGCR, supreme chancellor.  The ceremonial sword was presented by Sir Pablo Trillana III, KGCR and  Sir Justo P. Torres, KGCR. Sir Lamberto C. Nanquil, KGCR, chairman of the Council of Elders acted as master of ceremonies.

Also present were Sir Vicente Ramos, KGOR supreme exchequer, Sir Reynold Mateo, KGOR, deputy supreme exchequer, Sir Diosdado Santos, supreme auditor, Sir Avelino Torres, KGOR, deputy exchequer and Sir Carlos Arnaldo, KGOR, supreme archivist, all members of the Supreme Council; Sir Hilario G. Davide, Jr., KGCR former supreme commander and former chief justice of the Supreme Court and Sir Virgilio S. Esguerra, KGCR, former supreme commander,  both members of the Councilof Elders.

The President thanked the Order of the Knights of

His Excellency, President Benigno S. Aquino III being congratulated by Sir Emilio Yap, KGCR, recent laureate of the Amor Patrio award, Sir Justo P. Torres, KGCR, supreme commander emeritus and Sir Pablo S. Trillana III, KGCR, supreme commander. Photo J. Balsamo

The president was cited particularly for his  "open and frank dialogue with the public, displaying exemplary honesty and openness in the affairs of government; thus laying down the Rizalian principles for an efficient, corruption-free, people-oriented leadership, aimed at the economic progress, the social improvement and the cultural enriched lives of all Filipinos."

Pres Aquino keynotes Knights of Rizal international confab, conferred "Knight Grand Cross"

-Munting Nayon News Magazine

President Benigno S. Aquino III graced the opening of the three-day International Assembly and Conference on Rizal with the theme – "The New Rizals: Emerging Leaders Innovating Across Sectors (ELIAS) and Beyond Borders." The occasion gathered together the Order of the Knights of Rizal from all parts of the country and even abroad.

The Chief Executive was conferred the Knight Grand Cross of Rizal -- the highest degree given by the Order -- for having embodied the virtues and ideals of our national hero, Dr. Jose P. Rizal, through his honest and transparent form of governance. The same degree was also conferred posthumously to President Aquino's father, the late Senator Benigno Aquino, Jr. on 30 December 1986.

In his speech, the President emphasized that the 3-day conference should serve as a reminder of the task that he and every Knight of Rizal must do to address the problems besetting the nation. "You are supposed to be teachers of his ethics, defenders of his patriotism, and living examples of his belief in civic participation…do not waver, do not stray from the straight and righteous path, and know that you are not alone. It is also the same commitment I give for the next five and a half years as a leader, as a citizen of this republic," President Aquino stated.

The Order of the Knights of Rizal is a private, civic and patriotic organization recognized by law (Republic Act 646) which aims to inform and promote the teachings of Dr. Jose P. Rizal to the citizenry so that they may follow his example.

-RTVM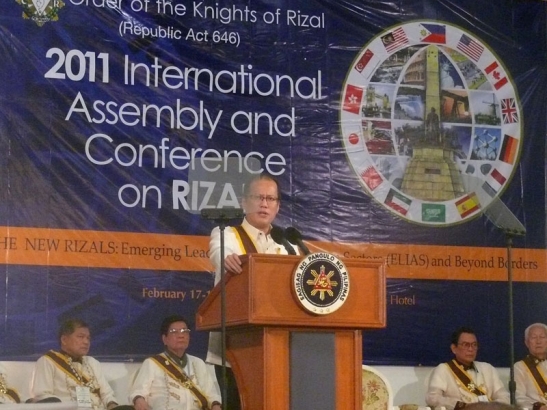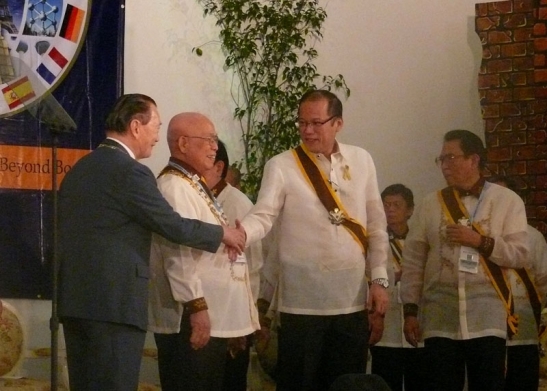 His Excellency, President Benigno Aquino III. Photo J. Balsamo.

Speech

Tribute to Dr. Jose Rizal

By DAISAKU IKEDA, President, Soka Gakkai International

February 16, 2011, 10:46pm

I extend my heartfelt felicitations on the 18th Knights of Rizal International Assembly and Conference, as well as my warmest greetings to all of you who have gathered here today. I also salute the Order of the Knights of Rizal, which organized this event, for it continues to shine as a great star of wisdom and human decency far into the 21st century.

Allow me to share a few thoughts commemorating this Assembly, not only as a proud member of your esteemed Order but on behalf of the men and women of the Soka Gakkai International, an association encompassing 192 countries and territories – including the homeland of Dr. Jose Rizal, the Philippines – which I serve as president.

The light cast by an individual who has achieved genuine greatness is timeless, transcending eras and peoples. It dispels illusion like a lens, bringing into sharp focus what is right and what ought to be done at this very moment; a beacon illuminating the correct path upon which we must traverse toward the future.

Few individuals better symbolize such greatness than Dr. Rizal, whom we respect from our hearts. His insights and actions are admired and appreciated on five continents. American President Theodore Roosevelt described Dr. Rizal as "the greatest genius and most revered patriot ever known in the Philippines," while renowned Spanish philosopher Miguel de Unamuno counted him among the most exceptional individuals in human history.

Monuments honoring Dr. Rizal have been erected in the US, Spain, France, Germany, Switzerland, Belgium, and Japan. They stand in testament to the man as an epic champion of peace and humanity.

A bust of Dr. Rizal also graces Soka University, which I founded. It was a gift from this very Order, a priceless treasure that imparts to students Dr. Rizal's profound and enlightened spirit.

This year marks the 150th anniversary of Dr. Rizal's birth, as well as the centennial of the Order that has steadfastly carried forward his legacy and promoted it for the sake of the entire world.

I congratulate our Order and my fellow Knights on this most meaningful and splendid of milestones. At the same time, I pledge to strive harder still to live up to Dr. Rizal's principles and ideals, redoubling my efforts to share his ennobling philosophy of humanism with even more people of the world.

Humanity has entered an age of great change and upheaval, driven primarily by the acceleration of globalization. Diverse value systems and self-interests vie and clash with one another in many parts of the world, and tensions soar as a result. All the while, the energy and environmental crises and other challenges to our planet continue to mount but are left largely unaddressed-issues that can only be resolved through a united, international effort.

Who can we entrust to tackle these challenges and transform them into opportunities for humanity's further development?

They are the leaders of global citizens, this who strive, as had Dr. Rizal, with open hearts and lightly adaptive intellect for the welfare of the world.

That is precisely, I believe, why this Assembly has adopted "The New Rizals: Emerging Leaders Innovating across Sectors (ELIAS) and Beyond Borders" as its theme, for it is what we all aspire for and the modern era requires.

We are blessed in that we have the example set by Dr. Rizal himself, the global citizen whose legacy of greatness will endure for all time. I, for one, have come to the joy and appreciation I feel for the privilege of drawing vital lessons from his superlative insights and contributions, for they represent a model of global citizenry we would all do well to emulate.

As the depths of my joy is equaled by my commitment to follow in Dr. Rizal's footsteps, setting forth toward a century of human commonwealth which he so longingly envisaged, a commitment I intend to fulfill without regard to my life.

Dr. Rizal's commonwealth may be described as one in which all of humankind unite and draw upon new creative energies in the immense task of building a truly global society. Should we intend to succeed in this epic undertaking, we must devote ourselves to the advancement of education, which Dr. Rizal not only consistently advocated but firmly backed with action.

In Dr. Rizal's immortal work, Noli Me Tangere, its main character, Crisostomo Ibarra, flatly denies the exercise of violence, even for the sake of social reform. In the work, Ibarra declares:

I want good for it (my country), which is why I built a school. I seek it in education, for forward progress. Without light, there is no path.

As Dr. Rizal identified, education is indispensable to the development of human beings, to the flowering of culture and to the achievement of peace. Education is thus the ageless beacon that forever guides us to a better, more peaceful world.

I have dedicated myself to the cause of education, establishing schools around the world that are founded on the principles of value-creating education, out of belief which I succeeded from Tsunesaburo Makiguchi (1871-1944) and his closest protégé, Josei Toda (1900-1958). I hold these two men as my mentors in life. Born a decade after Dr. Rizal's birth, Mr. Makiguchi was an educator who gave his life in opposing the militarist regime of wartime Japan. Mr. Toda was also arrested and endured two years of confinement without ever compromising his principles. They instilled in me that justice and peace were inseparable from education.

What, then, are the qualities required to develop global citizens for his future?

Sir Rogelio M. Quiambao, our Older's past Supreme Commander, is a dear and close friend and associate whom I hold in the highest esteem. In dialogue we coauthored, Sir Rogelio shared the following insight:

At the end of his long and varied struggle, Rizal had come to put his trust in young people and children possessed of certain traits: a heart that loves nobility, a sincerely resolute personality, a mind capable of clear thought, fairness of actions, and love for compatriots.

One of the most impressive aspects of our Order is that my fellow Knights personify these very attributes which Dr. Rizal sought and trusted in, with such vigor and enthusiasm.

In a letter composed while exiled, Dr. Rizal noted that those who pursue truth gravitate to the principles they seek, much like art students who gather around a statue they intend to sketch. Those who cannot observe this "statue" in person, however, can still arrive at the truth, or "idea" from that which has previously been reproduced.

The greatness of the truth-seeker will never wane as long as others embrace his or her legacy as their own. Indeed, that truth is bound to be conveyed with even greater clarity to subsequent generations, further inspiring them to endure for perpetuity as its most relevant portrayal.

The steadfast guardians of this precious lineage are the illustrious Knights of Rizal. To you, I extend my utmost admiration and gratitude.

What is important in the effort to develop the ideal global citizen is to begin the process of growth oneself, from here and from now. Given that the theme under discussion today is innovation, I believe we should view the term from its most elemental phase: an inner-directed process that is as much the point of origin as it is the point of departure.

Buddhism teaches people how to transform their "lesser self"-that part of us which is held captive by ego, indifference or cowardice-into the "greater self" that is suffused with wisdom, courage and compassion and synonymous with the cosmological realm of human life or that is universal to it. This self-transformation is known as "human revolution."

As Dr. Rizal had demonstrated in his youth, the path of human revolution empowers us to vigorously pursue truth, strive out of altruism for the welfare and well-being of others, and serve the cause of justice without fear.

I believe we should tirelessly strive to learn, act upon, discuss, hone and stand up for what we believe is just and worthy as we set forth upon the path of self-innovation and our inner-directed revolution. Let us all act as Dr. Rizal's deputies, then, and usher in a truly borderless age longed by all global citizens, drawing upon the boundless energy and creative capacity from within us as we do so.

I pledge to work even harder to foster the young Rizals of the 21st century who will serve to advance peace and happiness for all, a task that I intend to carry out with my fellow Knights, whom I heartily applaud and admire.

Allow me to conclude with my prayers for the Order of the Knights of Rizal to flourish even further and for your respective countries to scale ever greater heights of glory. Finally, I pray that the Knights and Ladies of our Order, along with all the guests present today, may enjoy the best of health and success.

Maraming Salamat po

Rizal for this prestigious conferment and pledge to serve the people according to the spirit and ideals of the national hero, Dr José Rizal.

Closing the ceremonies, the supreme commander said:  "It is fitting that the father of the nation lead the people in honouring the founding father of the nation."


Speech

Rizal as a Patriot, Author, and Scientist

By

Francis Burton Harrison

Governor-General 1915-21


[Of all the governor-generals the Philippines have had, Mr. Harrison was the most beloved by the islanders. He seemed to have an instinctive sympathy with them and after his retirement from office testified to their worth in a remarkable book, "The Cornerstone of Philippine Independence." The comments that follow are extracts from an address he delivered at the laying of the corner-stone of Rizal Hall, Philippine University, December 15,1919.]

Addressing a university audience, I have selected three points in the life and writing of Dr. Rizal for your consideration. First is his patriotism. This university must devote its best efforts to teaching the students of to-day and those of coming generations that form of pure and unselfish patriotism that we find in the writings and sayings of Dr. Rizal. We have been gratified to follow the course in debate an in action of the students of this university in devoting their attention in a purely non-partizan way to the consideration of public questions of the day, but I address myself to the faculty as well as to the students for consideration of the form which that patriotism should take. In the days of my grandfather young men in America went to Germany to study at universities. That was the golden age when the teachings and memory of Goethe, Schiller, Lessing, and Heine inspired the youth of the land and brought about a political movement that was crushed and ended in 1848 in the death of liberalism and the beginning of modern autocracy. Those of us that were educated in German literature can scarcely understand the Germany of the last three decades, and yet, in my opinion, their devotion to the religion of brutality and force is to be found in the teachings of their modern university professors - an example that has terrified all mankind and threatened the liberties of the world. So I say the teaching of pure patriotism must always be dedicated to the promotion of liberties, the liberty of thought, of the individual, to the care of the welfare of the common people, and for the progress and advancement in modern science of learning of the people of the Philippine Islands.

The literary aspect of Rizal's works should commend itself to each of you as an inspiration to do your own duty. I think no man can read Rizal's novels without feeling his powerful impulse of sympathy for and understanding of the people of this country. We can be moved not only by his profound reading of human nature, but we can also be inspired to emulate, if we may, the high level of talent for which his name will ever be famous in the history of literature. Here in the Philippines I would, if I could, arouse you to more earnest devotion to a literary career. You have natural advantages second to no country in the world. Your history is replete with incidents and romance and your present latter-day development is a true inspiration to the youth of the world in all countries. Last winter when I returned to New York for my first vacation home I remember one particularly dark and gloomy day when the people on the streets, which are nothing more than cañons between high buildings of stone and glass, were jostling one another without a spark of human sympathy or appreciation, conscious competitors in the struggle for the survival of the fittest; and my mind went back to those scenes of every-day life in the Philippines, to this land of lofty mountains, of clear water running to the sea, the sunsets across Mariveles Mountain, the dawn over Mount Arayat, the blue haze upon the rice-fields in the evening-all the familiar scenes and sounds of a life animate by the sun and made happy by the richness of nature. As I remembered the deep tender lights of the coconut groves and the busy industry of our daily life, I said to myself, "There is a country which could inspire any man to literary efforts with all its wealth of romance." When I recall the history of the Philippine Islands, the coming of the Christians with the sword and flaming cross, the coming of the Mohammedans, with the crescent and the crooked creese and their cry in many a hardfought battle, the enterprise of the Spaniard in spiritual teachings as well as in material investments, the shouts of Legaspi's sailors across Manila Bay, the guns of Dewey so many generations later, the efforts of our country to establish here our principles of democracy, it seems to me that any young man or woman born upon this soil and inspired by ideas has an opportunity to take a place in the very foremost ranks of literature and history and show to the world not only what has been done here in education but what the world may expect of the Filipino people when they take their rank as an independent member of the brotherhood of nations.

In the scientific aspect of his teachings Rizal ranked high in public appreciation, higher indeed in other countries than at that time he was allowed to rank here. He was recognized for his scientific work in ethnology, in zoology, and in botany in England and in the leading universities of Germany. Upon his death, the most distinguished scientist in Germany of that Professor Virchow, stated that this was a murder of the most prominent scientist that Spain possessed. In my opinion Rizal's greatest services to the cause of the human race were those scientific impulses which he gave to the world of his duty, and the martyrdom which he suffered was but another example of the determination of organized society in every age to eliminate those that by the pure processes of reason have arrived at new theories for the conduct and welfare of mankind. From the day of Socrates, who was put to death by the citizens of Athens for teaching the young men to think for themselves, down to that morning in December, 1896, when Rizal was done to death by the firing-squad at Bagumbayan, the pages of history have run red with the murder of men of science. In Europe of the Middle Ages the names of Roger Bacon, Giordano Bruno, Galileo, Agrippa, Campanella, Kepler, Lavoisier, of Priestly, and many others of less distinction in the annals of history have shown what struggles the human mind has been called upon to endure and to what stress the human body has been put in the efforts of science to liberate the human mind....

Bearing all these things in mind, it seems to me that we can justly appreciate Rizal's love of science and his final martyrdom as the greatest contribution to the freedom of thought ever given by any one man to the Filipino people. This hall which we are about to dedicate, reserved as it is to be for the study of science, is the most fitting monument to the name of Rizal that could be devised. Here he alive to-day I have no doubt he would feel an infinitely greater inspiration in the thought that his name was to be attached to this great edifice and that his memory was to be preserved by the study of young Filipinos, men and women, in the natural sciences than he would be in that splendid statue erected down there on the Bagumbayan to perpetuate the memory of his patriotic death.

Now, my friends, in dedicating this edifice to progress, I believe that it will stand for progress as long as the Filipino people themselves remain progressive and as long as you will fight the battle for liberty of thought and of reason, and, I believe, also, that Dr. Rizal, if he has any conscious knowledge in those ethereal spaces to which his soul has been summoned, will summon the youth of his beloved country to dare all, to endure all, and, if needs be, to suffered all that he himself had dared, endured, or suffered in order that science may not perish from the face of the earth.

If you like what you see in our website, please share and tell your friends about us.

PHLPost issues stamps marking 100th anniversary of

Knights of Rizal

By Isabel Doria /  June 11 2016  10:01 AM

Good news for stamp collectors and those interested in national hero Dr. Jose Rizal: A new set of commemorative stamps marking the 100th anniversary of the Order of the Knights of Rizal is coming.

Some 101,000 copies of the stamps, designed by Victorino Serevo and to be sold at P15 each, will be printed, the Philippine Postal Corp. said.

PHLPost said the stamps and official first day cover will be available starting June 19, Rizal's 155th birth anniversary, at the Post Shop of the Central Post Office in Manila and in other area post offices nationwide.

The Knights of Rizal stemmed from the Orden de Caballeros de Rizal, which was established in 1911 and was publicly listed in 1916 as a non-profit, non-political and non-sectarian organization.

It sought to honor the martyrdom of Dr. Jose Rizal, and has led commemorations of Rizal's birth anniversaries and plays a major role in ceremonies marking his martyrdom on Rizal Day.

PHLPost said the Knights of Rizal Centennial Celebration special stamp features the image of the sculptured bust figure of Rizal, with the official seal of the Order of the Knights of Rizal in the background.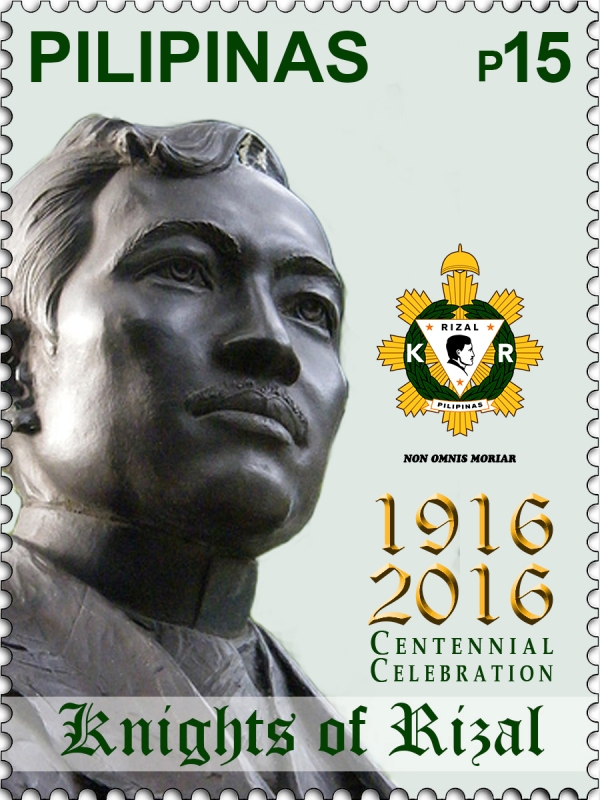 7.3-hectare Rizal shrine, complex opens in Vizcaya

- Biggest In The World

By Charlie Lagasca

This complex in Barangay Casat, Bayombong, Nueva Vizcaya contains a 12-story high structure in Romanesque design housing a 16-meter bronze statue of Dr. Jose Rizal. Charlie Lagasca

BAYOMBONG, Nueva Vizcaya, Philippines – Just a month after its historic first Grand Ammungan marking its 170th founding anniversary, this landlocked province will be in the spotlight again with the inauguration next month of what is reputed to be the biggest shrine dedicated to national hero Dr. Jose Rizal.

Nestled on a hill in Barangay Casat in this town, the 7.3-hectare shrine and multipurpose complex to be formally opened to the public on July 4, contains a 12-story high structure in Romanesque design housing a 16-meter bronze statue of Rizal.

The shrine, a brainchild of Jordanian-born Mahmoud Asfour, now a naturalized Filipino citizen, also features smaller bronze busts of other Filipino heroes, including one for the "unsung" and unknown heroes.

Expected to grace the inauguration, aside from provincial officials and officers of the Knights of Rizal, of which Asfour is a third-degree commander for Nueva Vizcaya, Quirino and Isabela, are Senate President Juan Ponce Enrile who hails from Cagayan Valley, and Ambeth Ocampo, chairman of the National Historical Institute.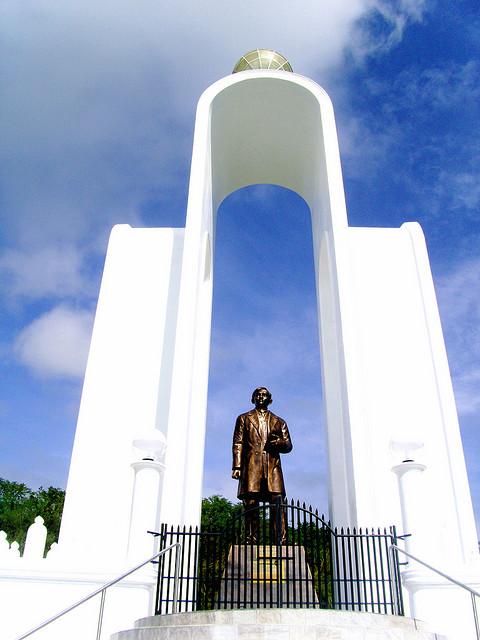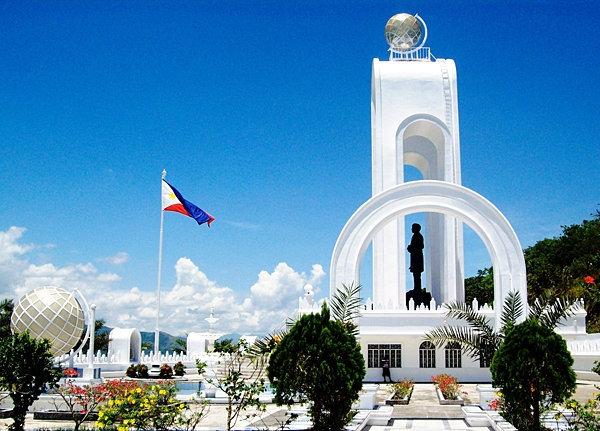 A retired bank official in the Middle East and a known philanthropist here, Asfour, whose wife hails from this province, said the Rizal shrine is possibly his "greatest gift to the Filipino people" and is what he envisioned to be a "symbol of Filipino unity and hope."

"It's all sheer love and respect for the Filipino people that I dedicate this shrine honoring the bravery of Dr. Jose Rizal and other heroes of the country," he said.

The shrine's entrance is highlighted by a 10-meter obelisk or pole on which the history of Nueva Vizcaya is written.

This leads to the shrine's main structure that contains the Rizal statue and other busts of heroes, surrounded by 14 seven-foot arches.

In the long term, the complex, about three kilometers from the national highway or from the downtown area, will also serve as a major venue for livelihood training, sport activities and recreation.

A mini-hospital, equipped with state-of-the-art facilities, will also rise in the complex.

Asked how much he has spent on the project, Asfour said the cost is not important to him, but the need to contribute not only to the Filipinos but also to the world.

"I'm just doing this to give recognition to Filipinos and as a gift to mankind," he said.

Asfour's fondness for Filipinos grew some 30 years ago after a Filipino truck driver saved him from near-death when his car bogged down in the desert.

"There were many vehicles that passed by but only one had the heart to stop and help and even bring me to the nearest hospital where I regained my consciousness," he said.

Asfour said the truck driver had died before he learned that he hailed from Pangasinan.

"We highly appreciate this incredible donation. It has been a splendid site even in its then unfinished condition and will be even more splendid now in its completed state," said Vice Gov. Jose Gambito, who, together with Gov. Luisa Lloren-Cuaresma and Rep. Carlos Padilla, is expected to lead the provincial delegation in the inauguration.

For her part, Cuaresma said, "Once again, an astounding effort by a fellow Tribu Viscayano in creating what is possibly the world's biggest Rizal shrine will place the province in the limelight and maybe earn it a place in history."