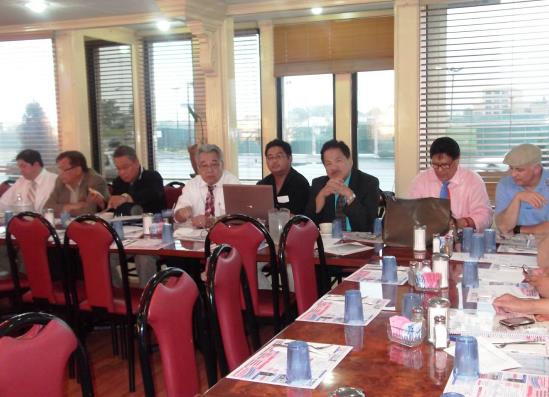 July 20, 2012 at 7PM, Jersey Diners in Jersey city, the chapter council held its first general membership meeting.

Typhoon Sendong Relief Fund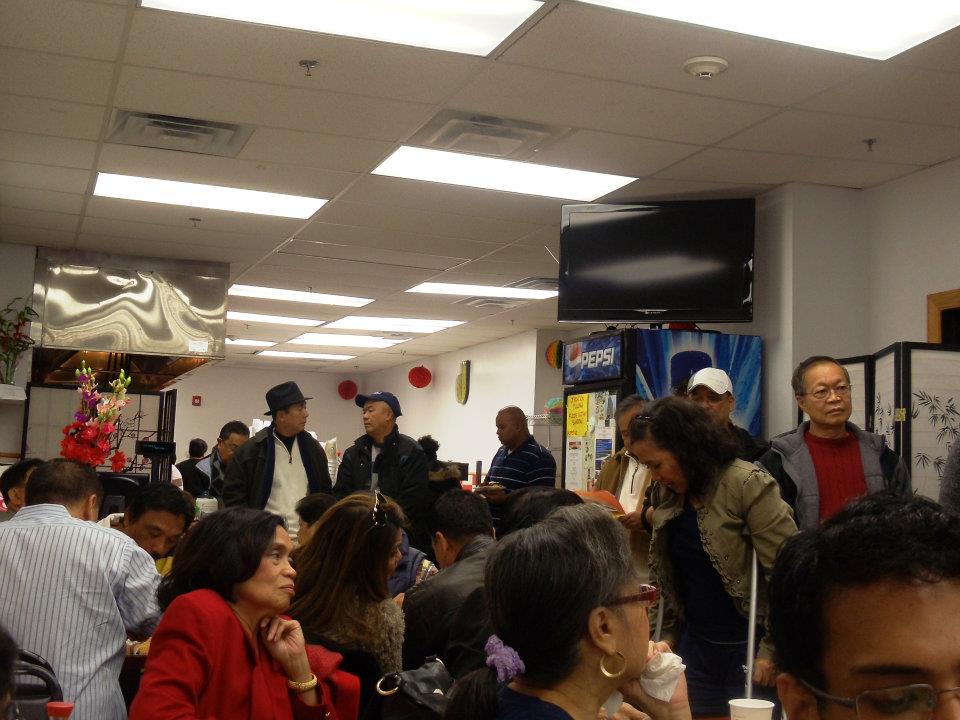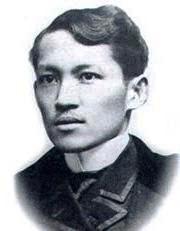 Order of the Knights of Rizal


Click and shop here. It's easy, it's fast, it's safe !

Planning to buy a house, go shopping or want to travel?  Or, just listening to old sweet music, login to thesalvogroup.com
© 2011  www.thesalvogroup.com All Rights Reserved.

Except for names, reports, data, pictures, etc which are local in content, most of the articles, pictures and others herein are standard information provided by the Order of the Knights of Rizal,  National Headquarters, other chapters worldwide, contributors and friends as allowed.

This website is created as a gift to the Jersey Chapter of the Knights of Rizal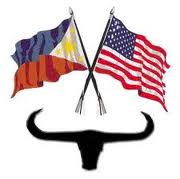 New Jersey Chapter Events & Activities

Contributions  and extracts from friendly newspapers, sites and individuals

Highlights of Activities

PART THREE - Details at our JCNews page

"The McBoys" (right), spearheading a noble project to raise fund for the victims of typhoon Sendong in the Philippines, proudly showing an oversized facsimile check. The real check will be hand carried and personally presented by Sir George Esguerra to the Supreme Commander of the Knights of Rizal in Manila this February, 2012. The group, composed of lawyers, accountants, realtor-brokers, broadcast journalists and administrators, are also active members of the Knights of Rizal, New Jersey Chapter.  

The pictures are just representatives of events and activities of the chapter. For more photos of any of these, you can access our Facebook Group Page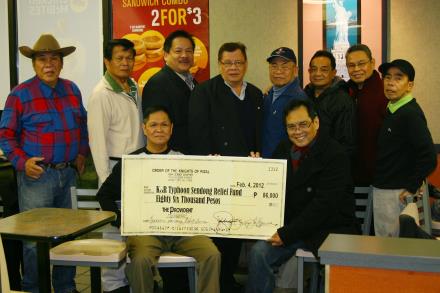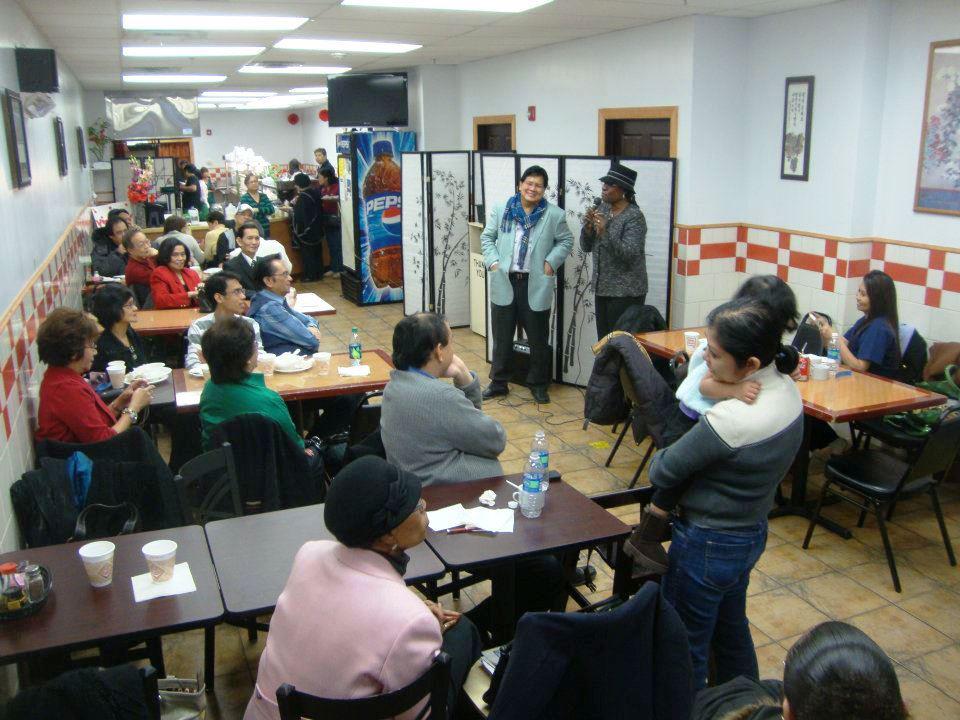 Typhoon Sendong Relief Fund

A fund-raising breakfast held at Victory Restaurant, Newark Avenue, Jersey City, January 29, 2012.

Brainchild of The McBoys who are also active members of the chapter. The Knights of Rizal served as a willing partner. The event raised about $2,000.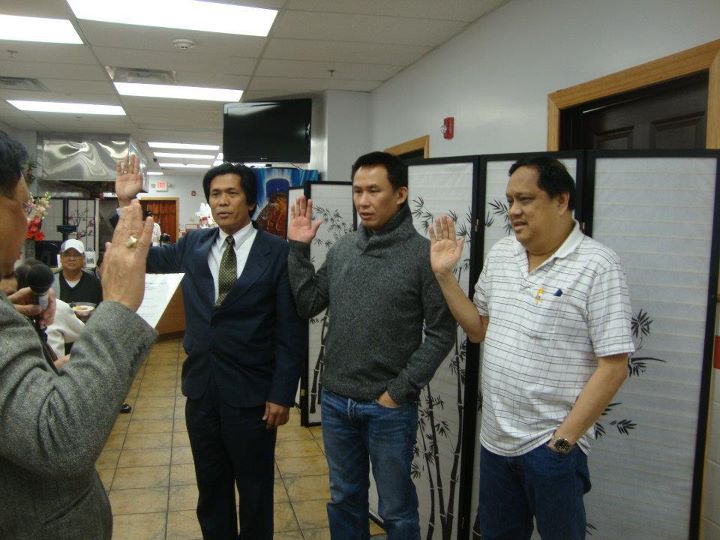 From l-r are: Mr Xerxes Treyes, Sir George Esguerra, Sir Ed toloza, Sir Gali Munar, Sir Dal Abuel, Sir Rudy Casuga, Sir Jun Hornilla and Sir Edgar Balintona. Holding the facsimile check are Sir Jun Florentino and Sir Fiorel Salvo.

Not in photo are Sir Tony Figueroa, Sir Ding Bonsol, Sir Dodie Cortez, Sir Butch LosBanos, and Sir Judge Victor sison.

Also, sworn in as new members of KoR are  (L-R:) Greg Agusan, Ray Dua and Nanding Roxas

The second general membership meeting held February 17 at Victory Restaurant, Newark Avenue, was a resounding success with no less than the former mayor of Jersey City Bret Schundler in attendance. As a guest speaker, he grabbed the opportunitty to promote his new baby - BELOVED COMMUNITY CHARTER SCHOOL.

Extensively covered in the meeting were 1) the forthcoming 4th USA Regional Assembly to be held in Honolulu, Hawaii, September 1 to 3, 2012. The conference will be hosted by the Hawaii Chapter headed by Chapter Commander Sir Raymond Liongson. 2) 4th Circle of Excellence Award & Gala Night, 3) Fund Raising, 4) Membership dues, etc.

(More of these photos at Sir Fiorel Salvo's Facebook.)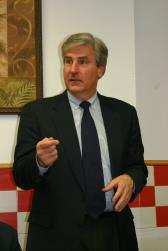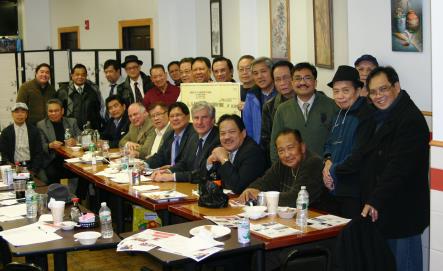 Congratulations

Sir Victor Sison, Grand Marshall for this years' Philippine American Friendship Committee (PAFCOM) celebration in Jersey City, New Jersey.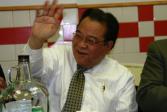 If you like what you see in our website, please share and tell your friends about us.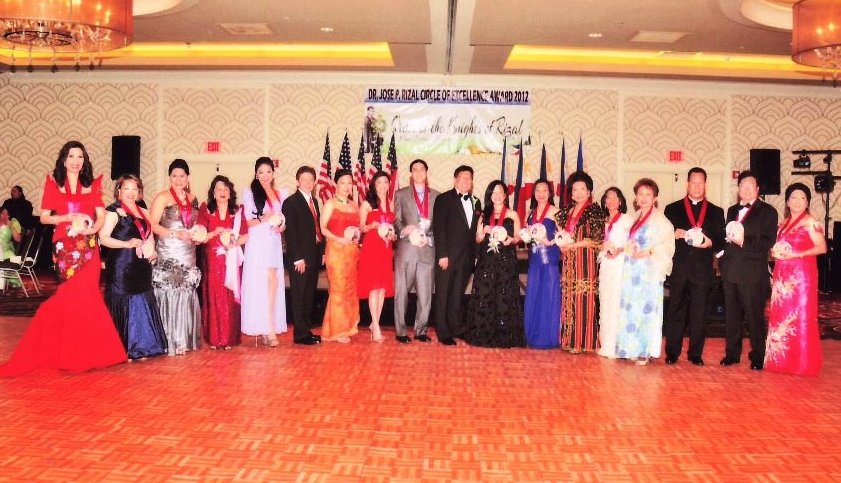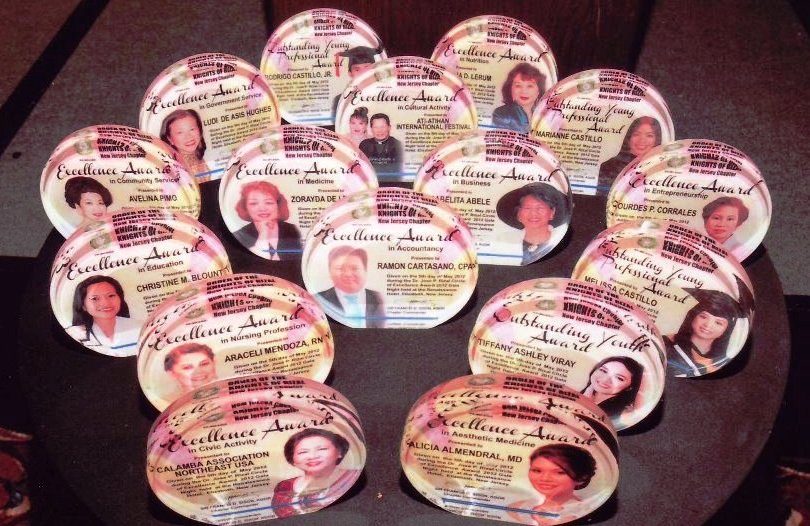 4TH PAR EXCELLENCE AWARDS

RENNAISSANCE HOTEL, NEWARK, NJ

May 5, 2012

The 4th annual awarding ceremony sponsored by the Knights of Rizal, New Jersey Chapter.

Ambassador & Mrs. Mario De Leon, Philippine

Consul General, New York. Guest of honor.

4TH PAR EXCELLENCE AWARDS

RENNAISSANCE HOTEL, NEWARK, NJ

May 5, 2012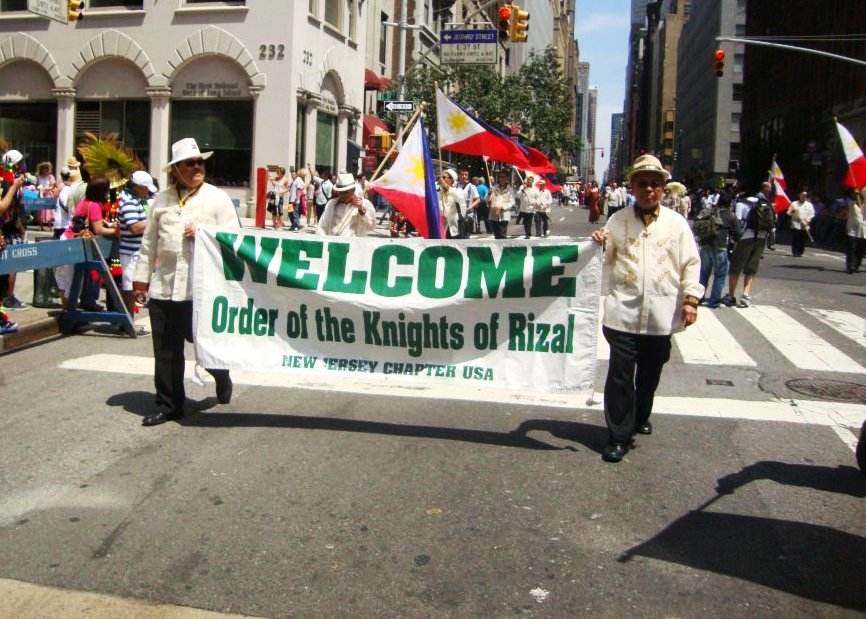 KofR NJC serving as Color Guards at the 2012 celebration of Philippine Independence in New York, June 3, 2012 sponsored by the Philippine Consulate, NY and the PIDCI.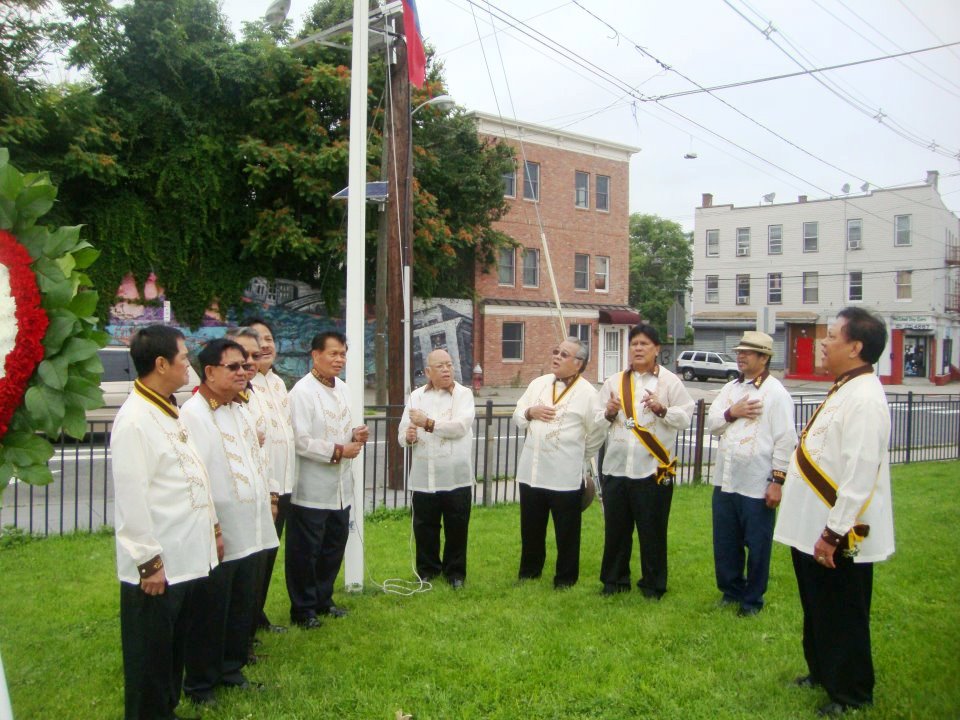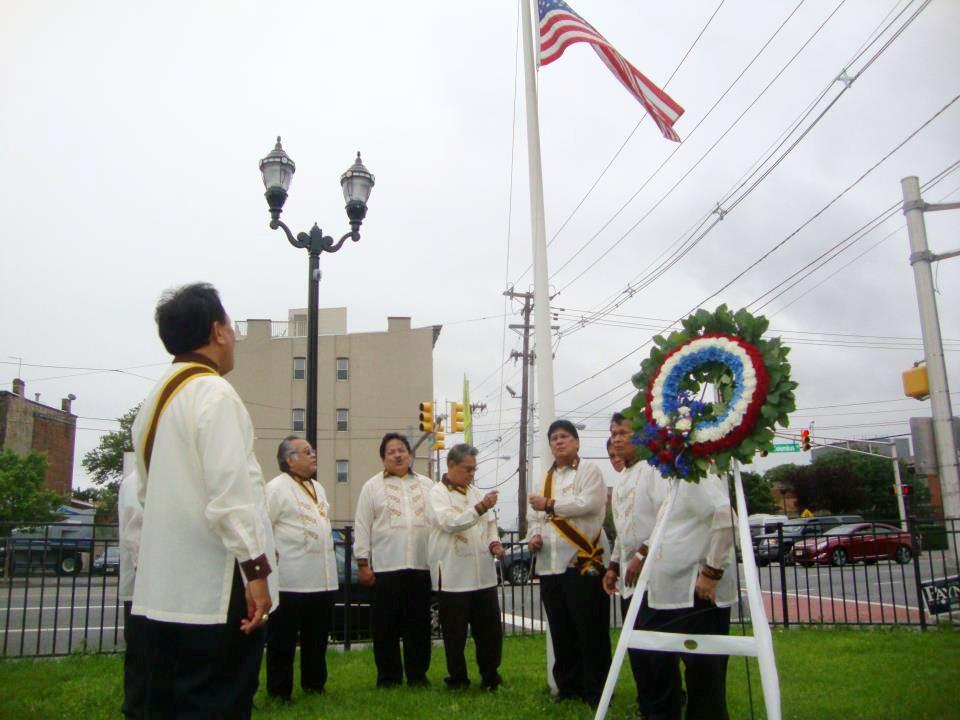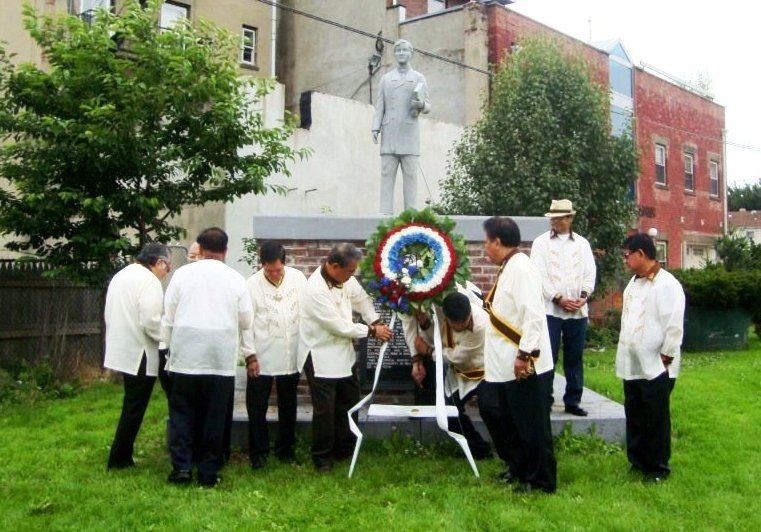 Flag raising and Wreath laying done at the Rizal Park, downtown Jersey City on June 19, 2012 at 9AM. In attendance are officers and members.

A general membership meeting was held in the afternoon of the same date at Victories Restaurant in Newark Avenue.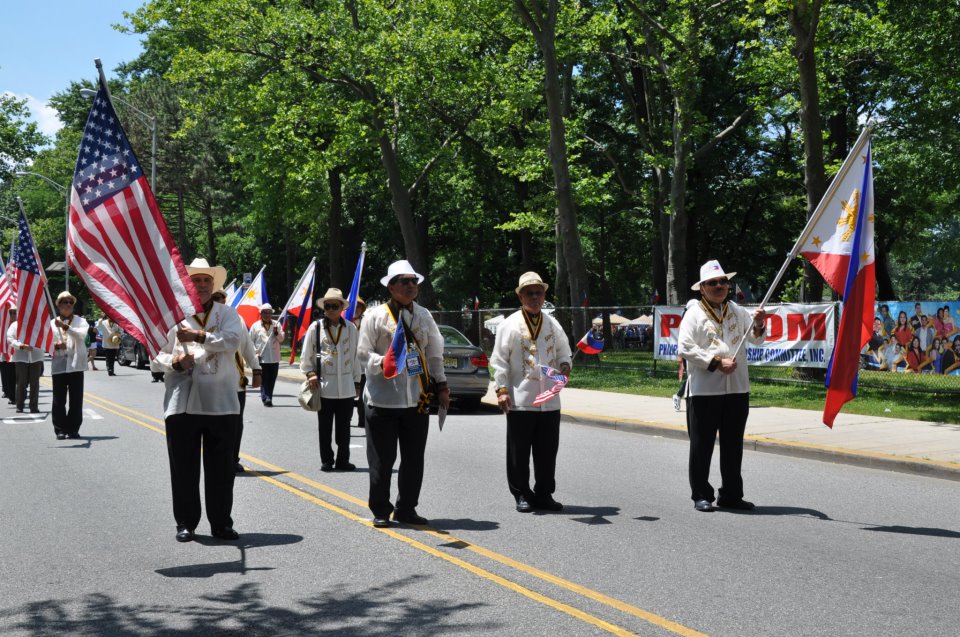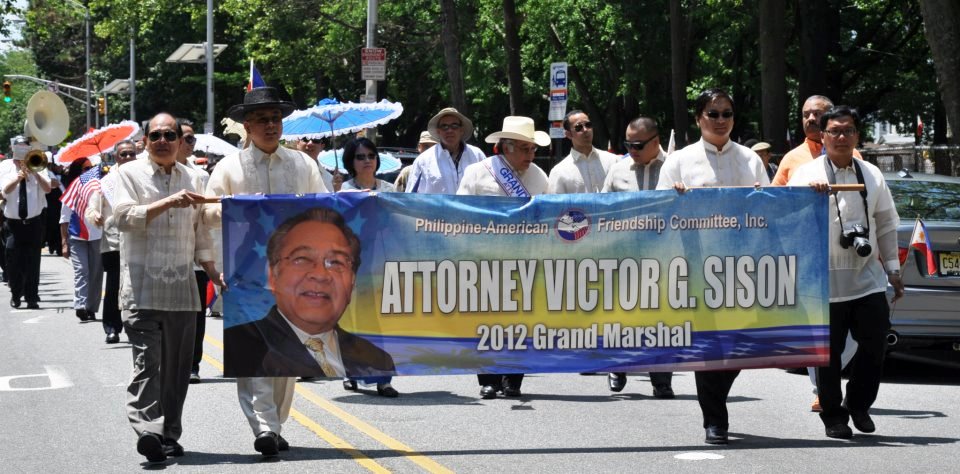 Flag bearers in the 2012 PAFCOM Parade held in Jersey City, June 24, 2012. Victor sison, Incoming Deputy Commander and PAFCOM Grand Marshal, leads the day's festivities.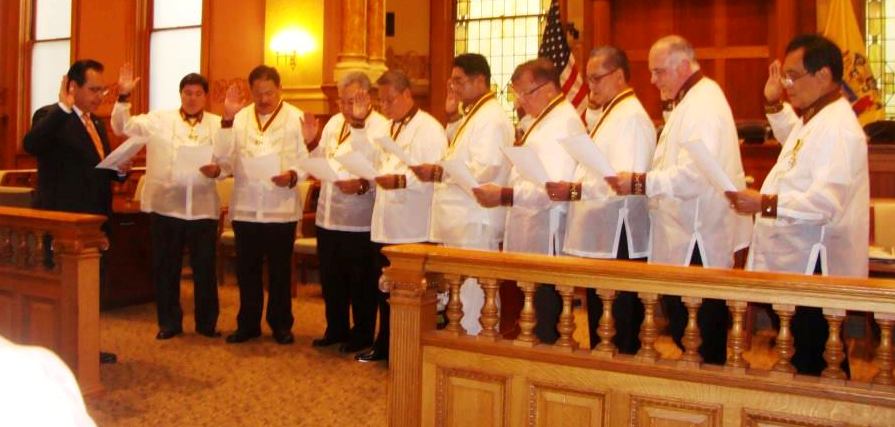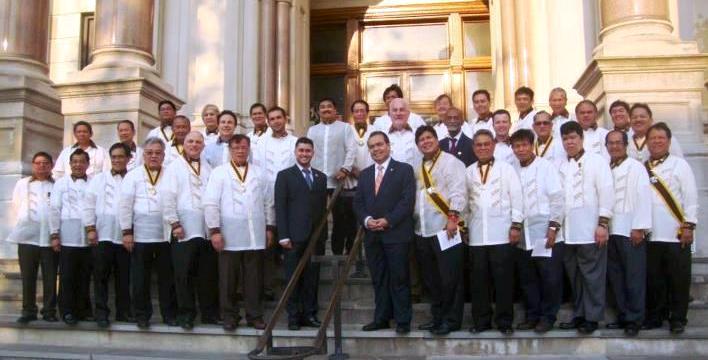 The New Board of Trustees & Officers, 2012 - 2014 were sworn in by Ambassador Mario Del Leon, Consul General of the Philippine government in New York, June 29, 2012 at the City Council Chamber, City of Jersey City. (Left to right: Ambassaador De Leon, Exchequer – Sir Gabriel Kaluag, Chancellor – Sir Ed Toloza, Deputy Chapter Commander – Sir Judge Victor Sison, Chapter Commander – Sir Domingo Jun Hornilla, Pursuivant – Sir Joey Mayo, Auditor – Sir Gali Munar, Deputy Exchequer – Sir Walter Romano, Deputy Pursuivant – Sir Juan Perez, and Archivist – Sir Fiorello Salvo

Officers, both outgoing and incoming, guests and current members are shown on photo at your right at the stairs of the historic city hall building of the City of Jersey City. Thanks to the people of the city.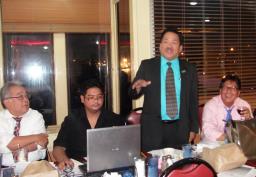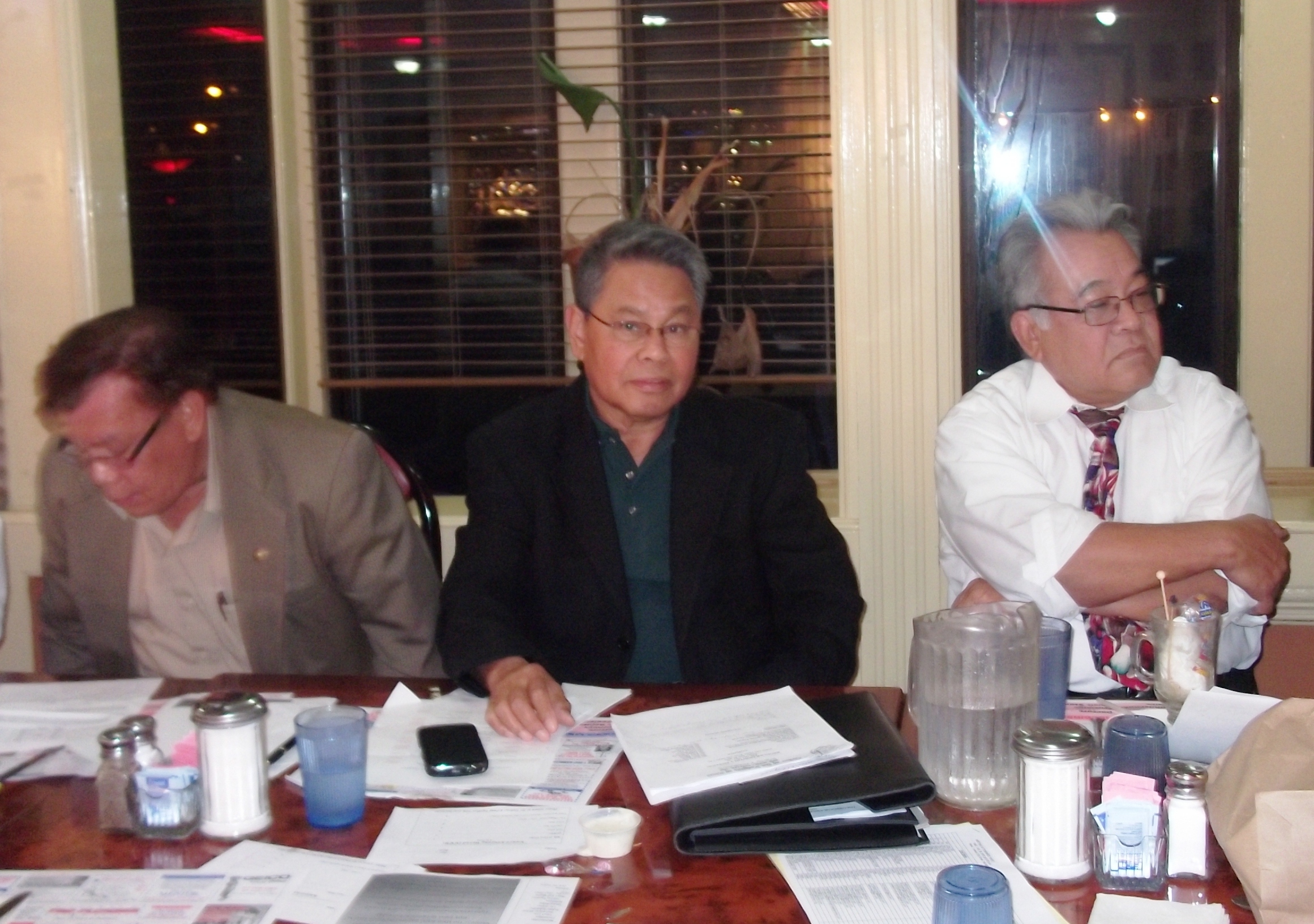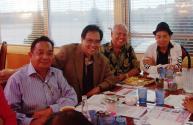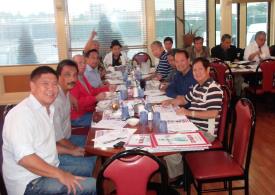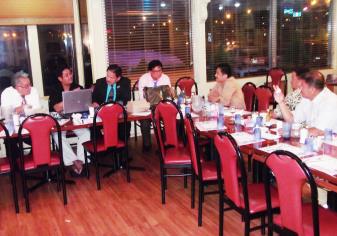 FIRST GENERAL MEETING BY NEW TRUSTEES, 2012 - 2014

Board of Trustees first regular meeting, August 3, 2012, Jersey Diners, Jersey City, with special guest, Sir Eddie Limon, KGOR, Deputy Supreme Pursuivant. Others in picture (L-R): Sir Gabriel Kaluag, Exchequer, Sir Domingo "Jun"  Hornilla, Chapter commander, Sir Eddie Limon, Sir Victor sison, Deputy Chapter Commander, Sir Francis Sison, Past Chapter Commander, Sir Paul Versoza (guest member), Sir Armand Porto, Past area Commander, Sir Walter Romano, Deputy Exchequer, Sir Gali Munar, Auditor, and Sir Fiorel Salvo, Archivist.  > Not in picture, but in the meeting: Sir Ed Toloza, Chancellor.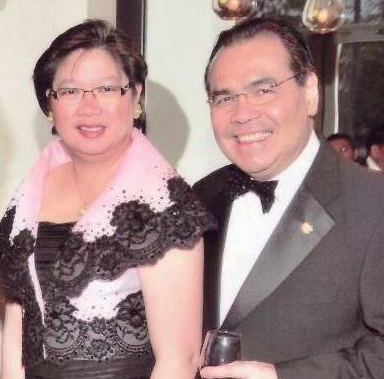 New programs and projects and the formation of several committees  were discussed.

For photo gallery of the chapter activities, login to your facebook account and visit the New Jersey

Knights of Rizal Group

General membership meeting, September 21, 2012. Considered the most significant meeting of the chapter ever. Issues were raised that are confidential only to members. One of three membership meetings chaired by chapter commander Sir Jun Hornilla.. For health and family reasons, he relinquished the command to Sir Gali Munar weeks after.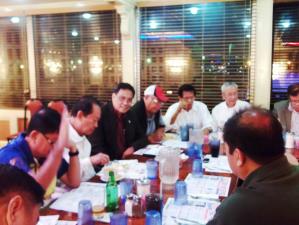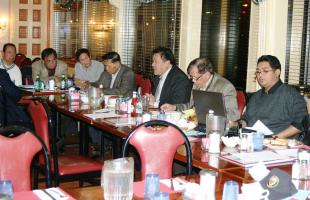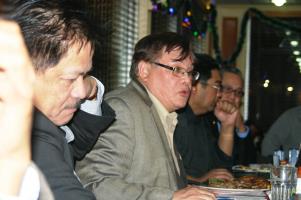 November 30, 2012 General membership meeting with the new Chapter Commander, Sir Gali Munar presiding. For the first time in the chapter, a "Prefectural Committee" was formed to handle due process in the awarding,  exaltation  and promotion of officers and members - a controversial and highly questioned issue of the past. Other very significant changes were approved during the more than two hours session. Among them were appointments, committee chairmanships, program & project priorities and Rizal Day preparations.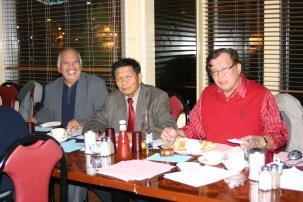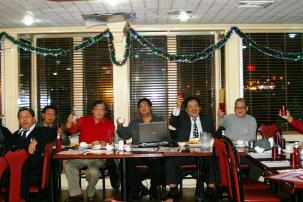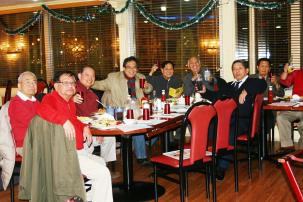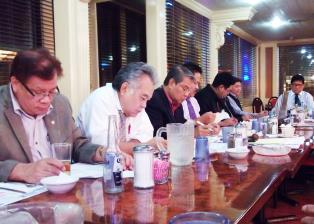 Chapter Commander Sir Gali Munar presented another FIRST for the chapter - ANNUAL BUDGET. In the General Membership Meeting of December 21, 2012, the commander discussed in details the 2013 - 2014 budget which was unanimously approved by the body. In addition, he also announced several fund raising events to replenish funds alloted for the Rizal Park and to finance other worthwhile projects with area Commander Sir Lito Gajilan actively participating. A toast for healthy chapter was offered by Sir Romy Luz before the session ended.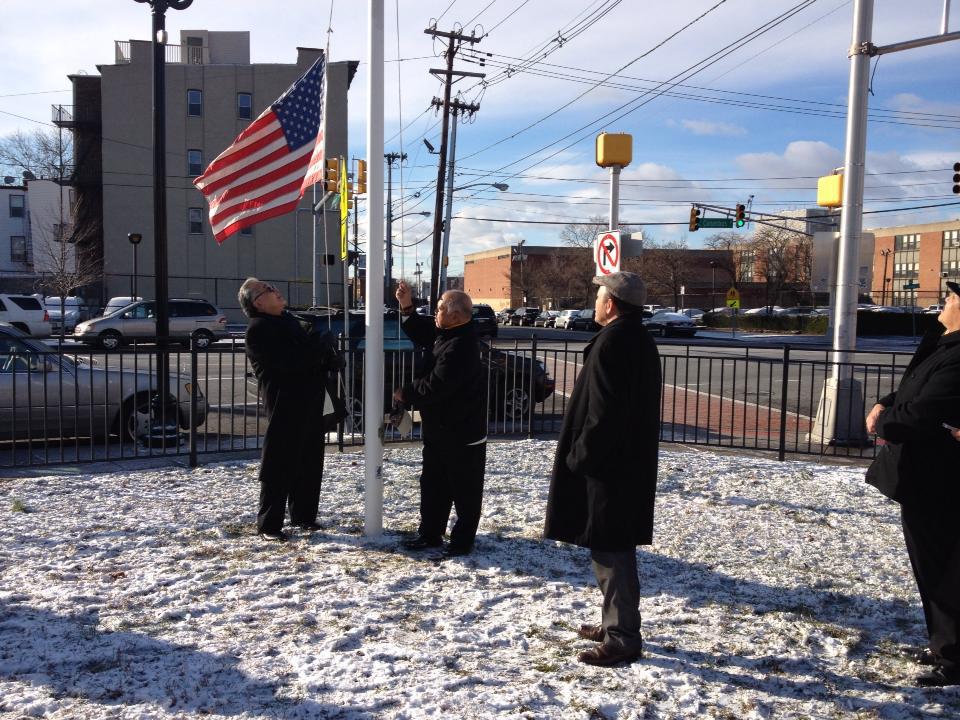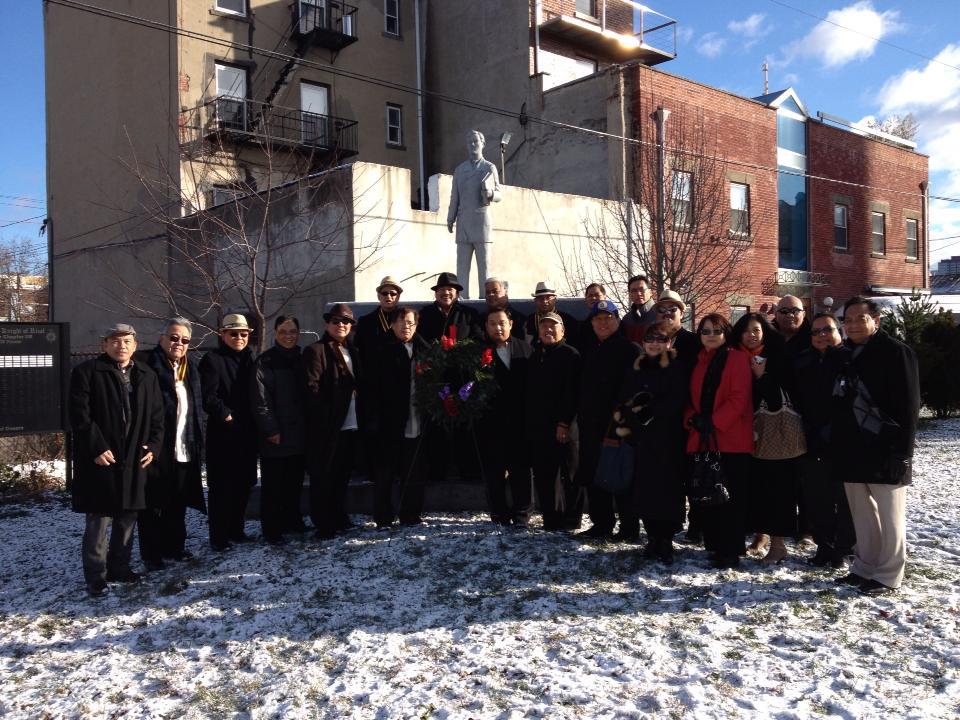 Flags Raising & Wreath Laying - A simple but significant commemoration of Dr. Jose P. Rizal's 116th death anniversary at the Rizal Park,Christopher Columbus Drive cor. Brunswick Street, Jersey City, December 30, 2012. Following later was an Appreciation Breakfast at 440 Diners also in Jersey City. Attended by about one hundred Knights & families and invited guests, the event was a resounding success. Gifts were brought in and raffled off to lucky winners. Guests were surprised by the McBoys (who are also Knights) who sung Christmas carols. It was the culminating affair of the chapter for 2012.



Order of the Knights of Rizal