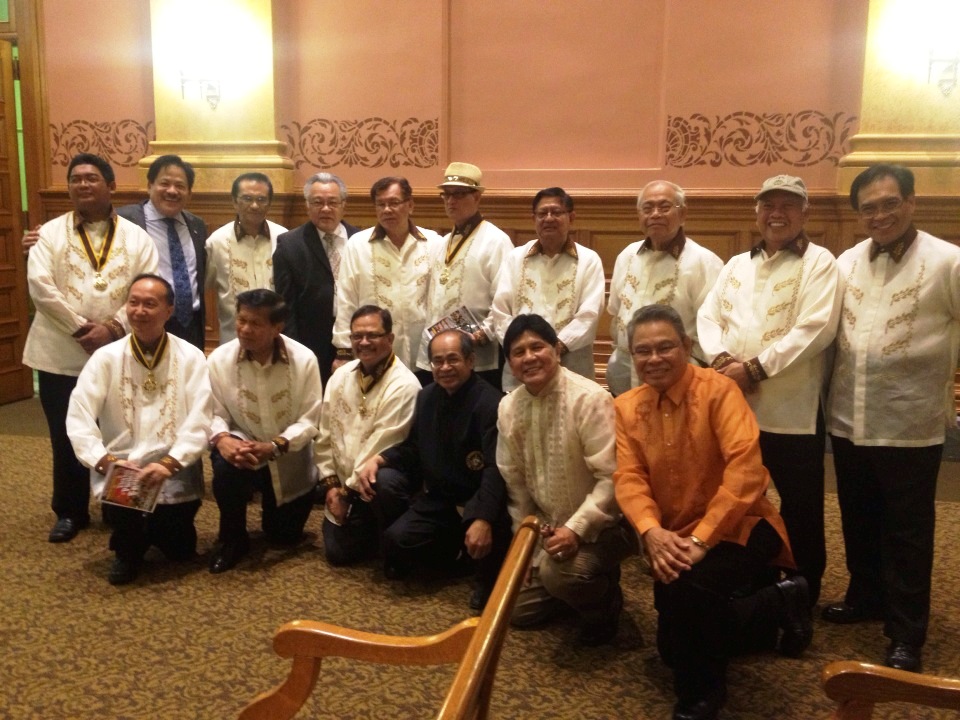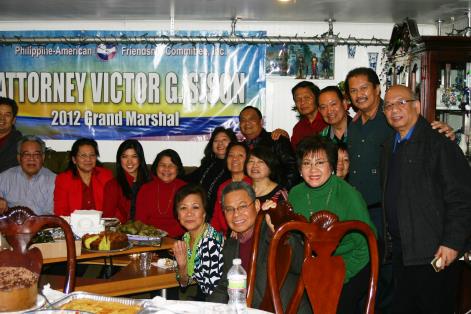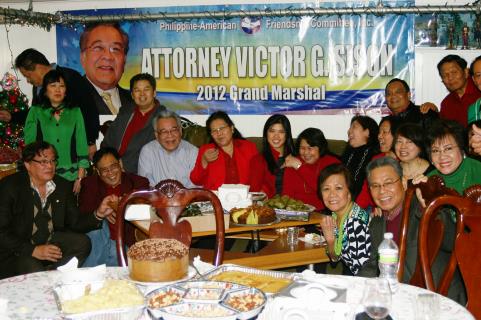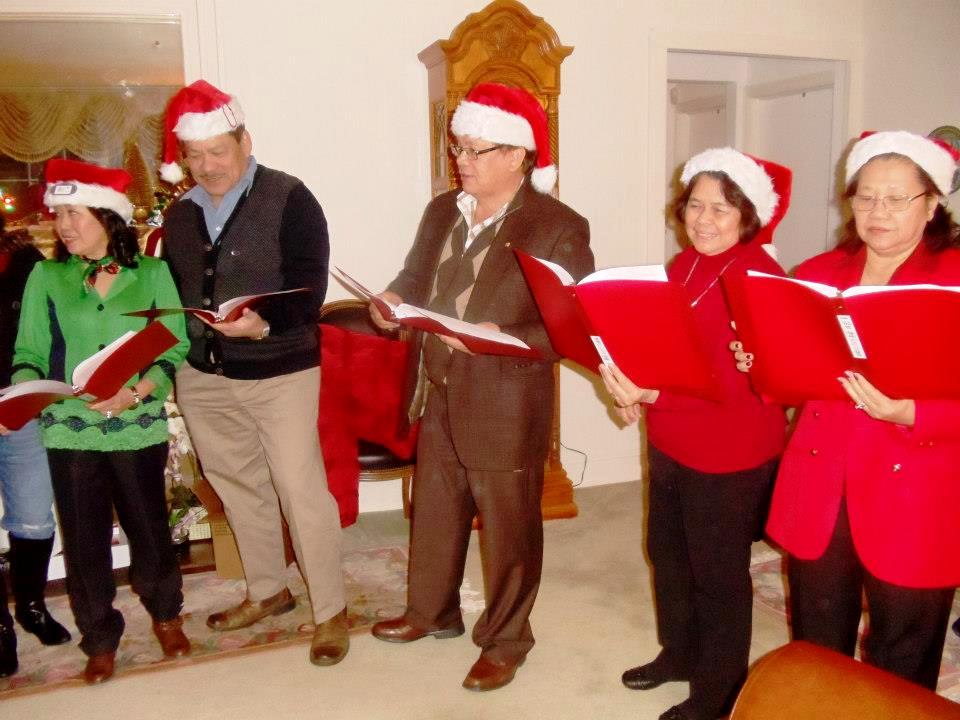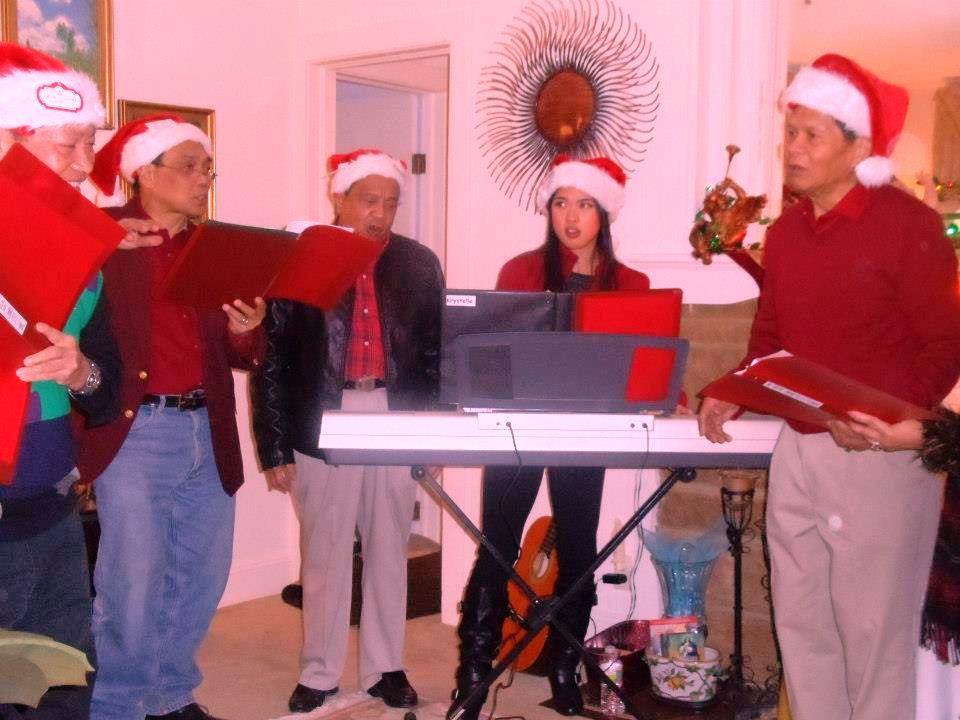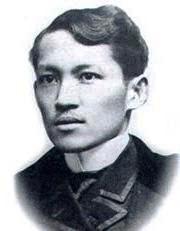 Order of the Knights of Rizal


Click and shop here. It's easy, it's fast, it's safe !

Planning to buy a house, go shopping or want to travel?  Or, just listening to old sweet music, login to thesalvogroup.com
© 2011  www.thesalvogroup.com All Rights Reserved.

Except for names, reports, data, pictures, etc which are local in content, most of the articles, pictures and others herein are standard information provided by the Order of the Knights of Rizal,  National Headquarters, other chapters worldwide, contributors and friends as allowed.

This website is created as a gift to the Jersey Chapter of the Knights of Rizal

Order of the Knights of Rizal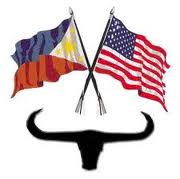 New Jersey Chapter Events & Activities

Contributions  and extracts from friendly newspapers, sites and individuals

Highlights of Activities

PART FOUR - Details at our JCNews page

The pictures are just representatives of events and activities of the chapter. For more photos of any of these, you can access our Facebook Group Page



If you like what you see in our website, please share and tell your friends about us.

For photo gallery of the chapter activities, login to your facebook account and visit the New Jersey

Knights of Rizal Group

The Knights of Rizal - Mcboys during their caroling evening at the residence of Sir Judge Victor & Mrs. Irene Sison, January 5, 2013. Also in photo are some guests. A first fund raising event for 2013.

First event for the year at Sir Judge Victor Sison's !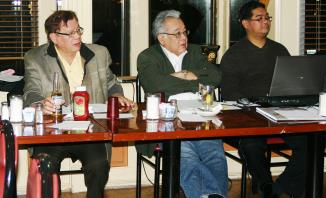 Sir Tony Figueroa, speaker at the Educational Presentation, a regular feature in the general membership meetings, detailing his "Rules & Ethics Governing Meetings".Segment moderator is Education Chairman, Sir Ed Toloza.

FIRST GENERAL MEMBERSHIP MEETING -

January 18, 2013, 440 Diner

Jersey City, NJ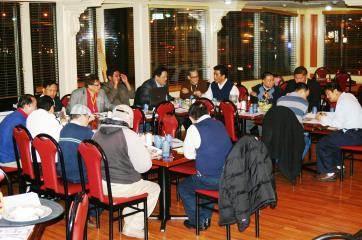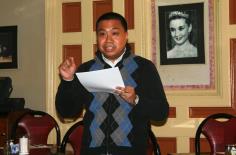 "Running Non-Profit Organization or Business" is the subject of lecture given by Sir Anthony Yabut, a veteran in the proper handling of tax-exempt entity. The meeting was well attended and was held at the favorite place of the chapter on Friday, February 15, 2013.

Chapter Commander Gali Munar, presided the meeting.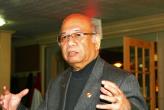 SECOND GENERAL MEMBERSHIP MEETING, February 15, 2013, 440 Diner, Rt. 440 Jersey City, NJ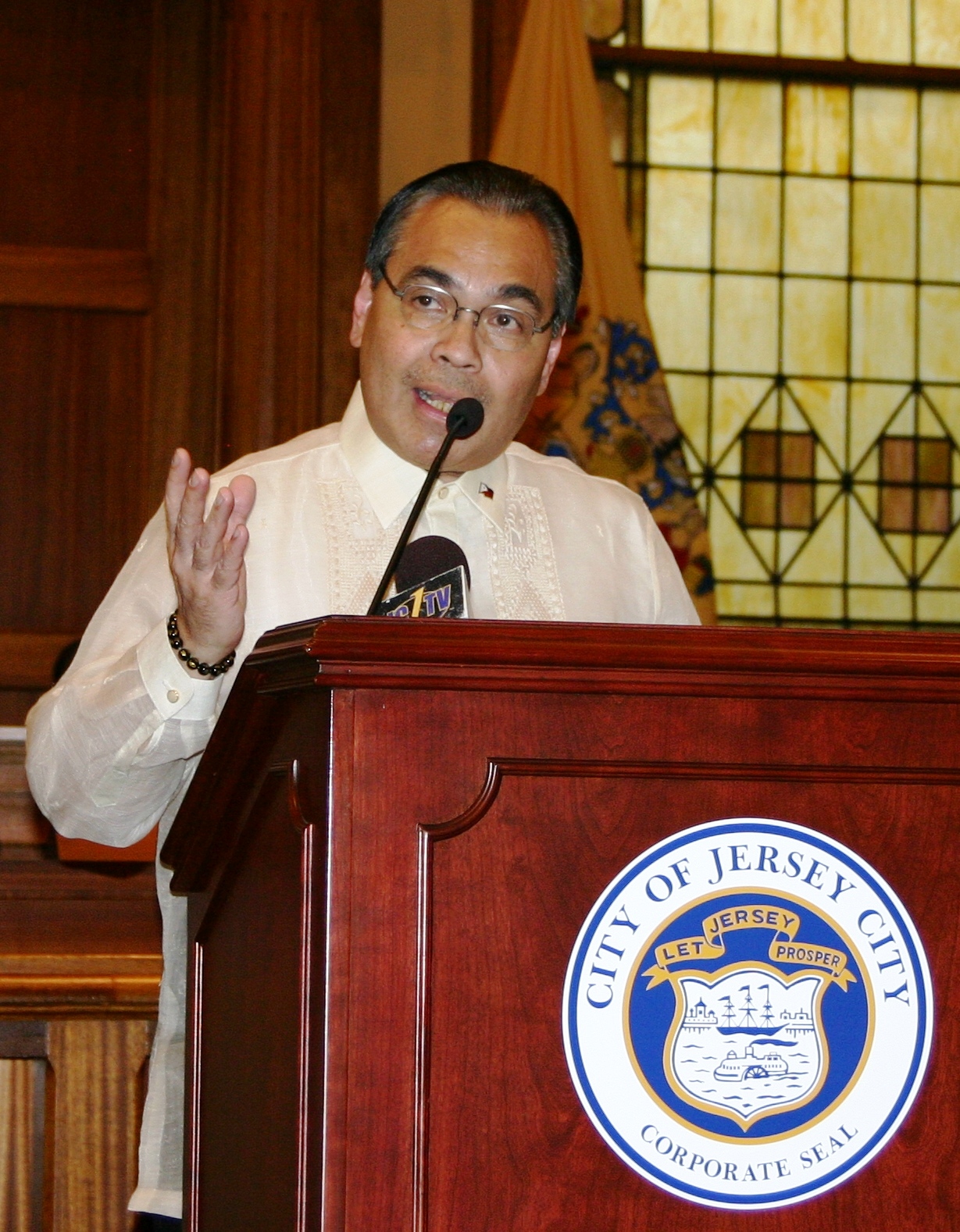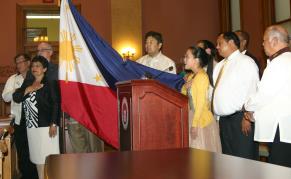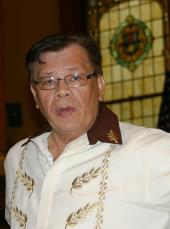 The Knights of Rizal was the "force" at this year's PAFCOM flag raising ceremony -a kick-off activity of  Filipino American Friendship month. The Jersey City Chamber was the venue because of heavy rain.  Sir Gali  Munar, Chapter Commander headed a group of more than 20 Knights, June 7, 2013. Amb. Mario De Leon (upper center photo)of the Philippine Consulate was the guest of honor.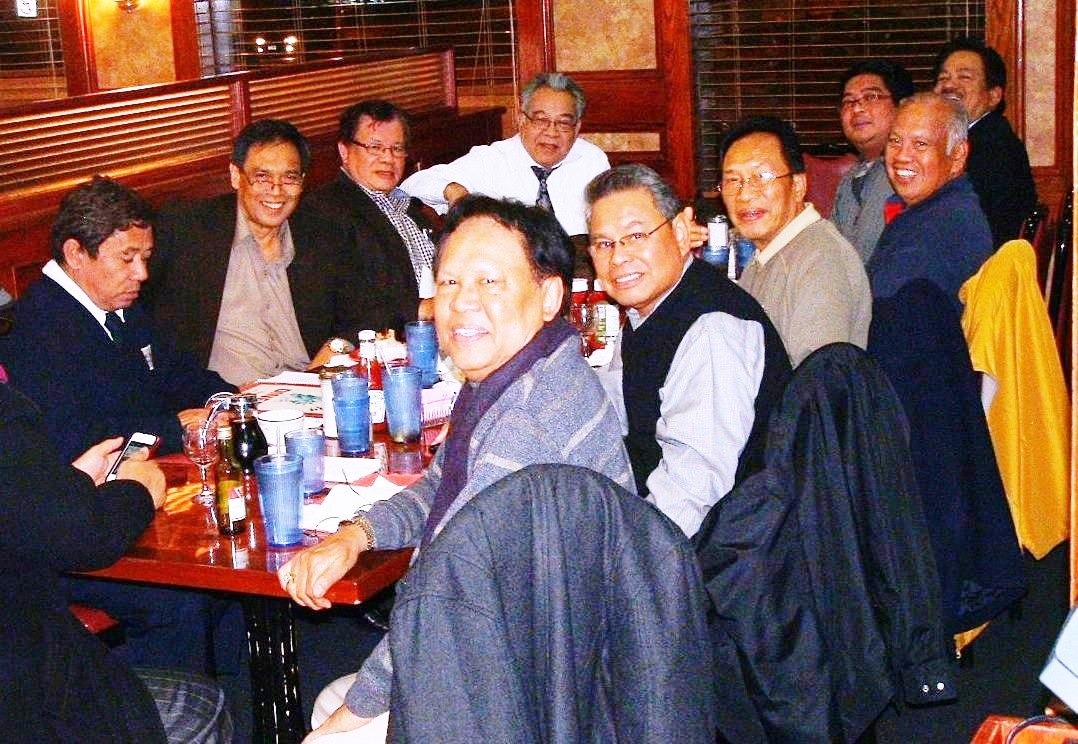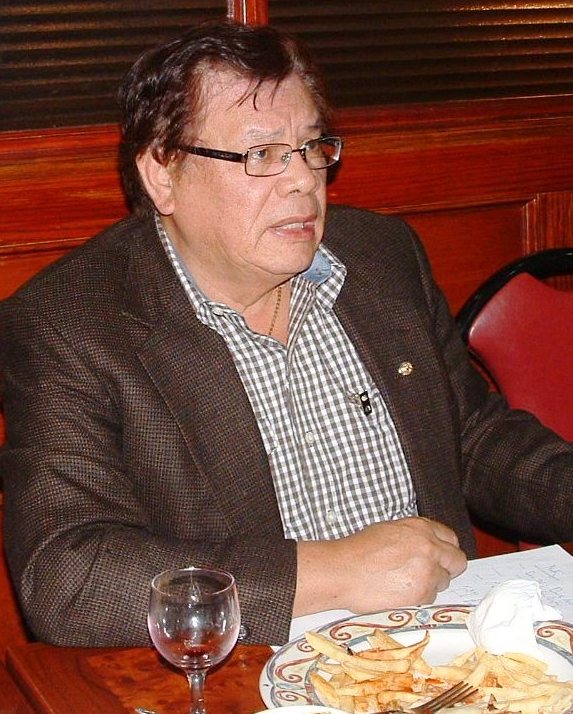 Each month, preceding a general membership meeting, the board meets to discuss agenda. Chapter President Gali Munar (far right) precides the meeting. (l-r clockwise) Sir Butch Los Banos (member & meeting guest) Sir Fiorel Salvo, Sir Gali, Sir Judge Victor Sison, Sir Joey Mayo, Sir Ed Toloza, Sir Lito Gajilan (Elder) Sir Ben Abao (member & meeting guest) Sir Jun Hornilla (member & meeting guest), and Sir Armand Porto (Elder)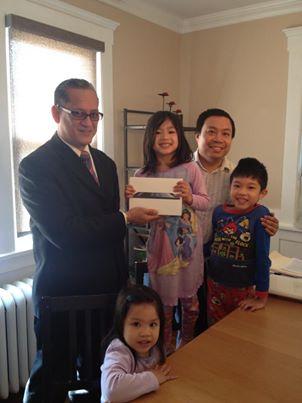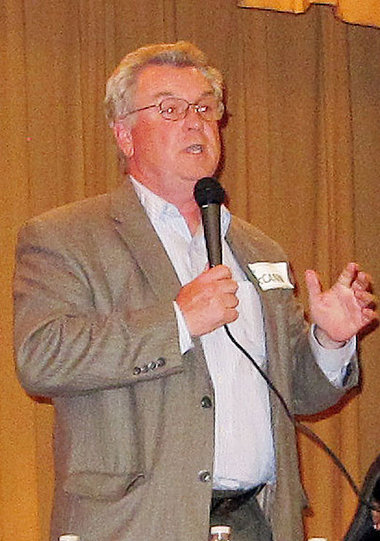 Mr. Gerry McCann, former mayor of Jersey City, was the guest speaker in the educational segment of the KOR-NJ general membership meeting of April 19, 2013. He talked about "Socio-Political State of the Community".

Also part of the meeting was the much awaited raffle drawing chaired by Sir Walter Romano and co-chaired by Sir Romeo "Dodie" Cortez. First prize - the latest model of IPAD went to Sir Anthony Yabut. Three other consolation prizes of $50 each were awarded to Francis may (Sir Fiorel Salvo's daughter), Sir Jun Florentino and Sir Armand Porto. Sir Ding Bonsol received a book titled "Rizal Without The Overcoat"

MAYOR GERRY McCANN

(Photo courtesy of

Jersey Journal)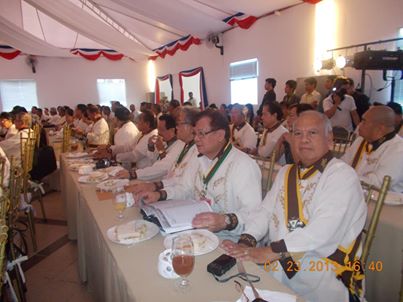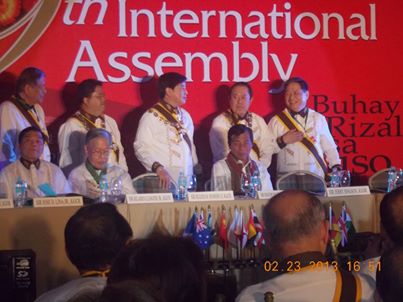 New Jersey Chapter headed by the chapter commander, Sir Gali, actively participated in the last 19th International Assembly held last February 19 to 23 in Baguio City, Philippines.

NOTE: 

Sir George Esguerra, Chapter Treasurer, announced that as of end of May, the club has achieved for the first time in history, a record high financial savings of more than $4,600. He noted that a huge deficit incurred during the last four or so years was gone. Financial stability is one of the current commander's main program goals.

Above photo:

Sir Anthony Yabut and family receiving the Ipad from Sir Walter Romano.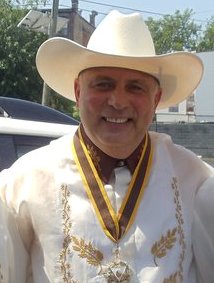 "The American flag, when carried in a procession with another flag or flags, should be either on the marching right, that is - the flag's own right, or if there is a line of other flags, in front of the center of that line". This is according to FLAG RULES AND REGULATIONS as discussed by former County Sheriff, Sir juan perez in his lecture during the educational portion of the chapter's meeting this month. The complete rules and regulations, as discussed is published HERE.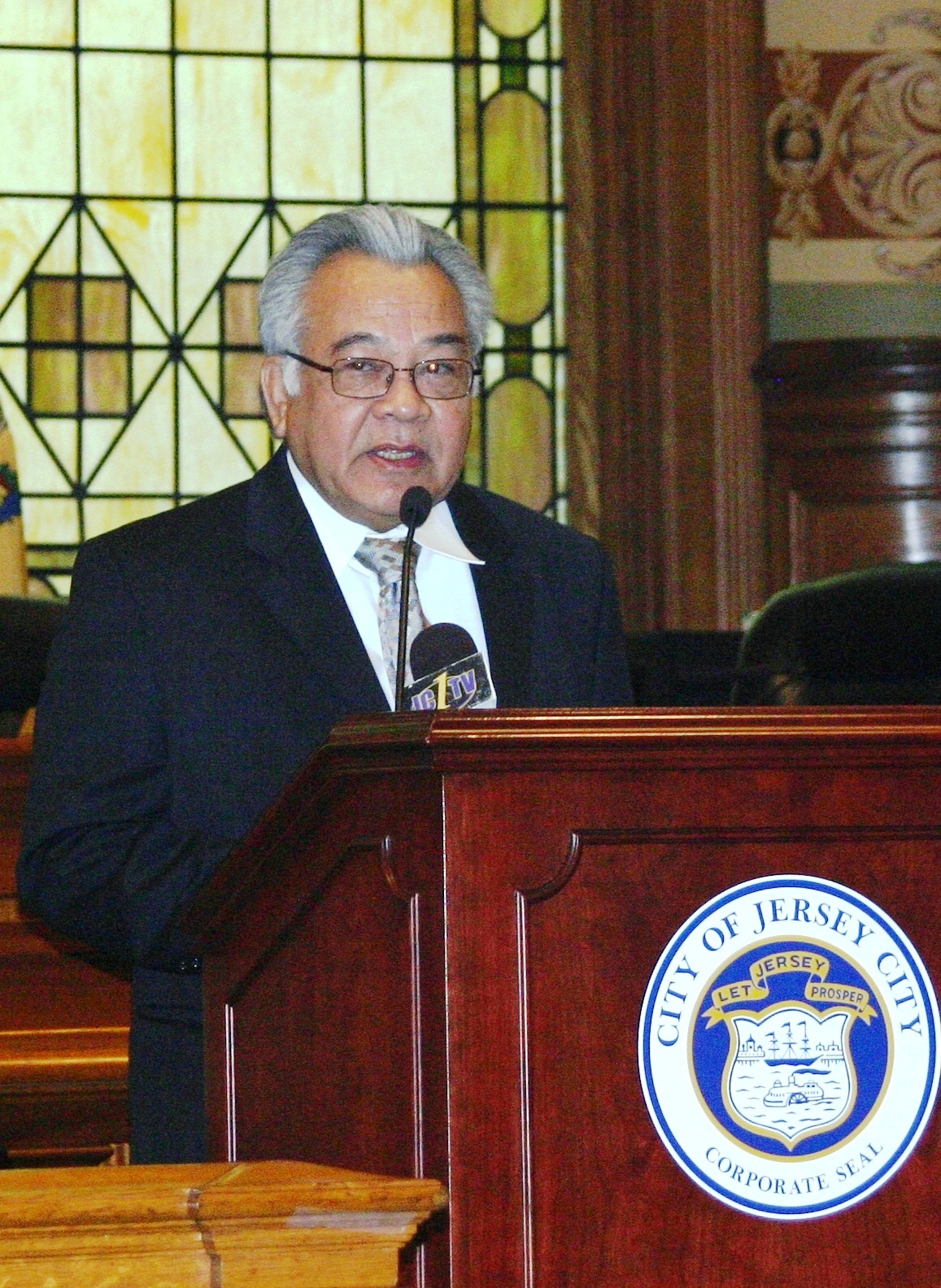 'PROJECT PLANNING; A STEP BY STEP GUIDE" was the title of the subject fully detailed in the half hour presentation done by Sir judge Victor Sison during the educational portion of the general memberhsip meeting last may 17, 2013. The topic was "Project Committee Planning Guide. For a copy of the manuscript, you can request the speaker by e-mail.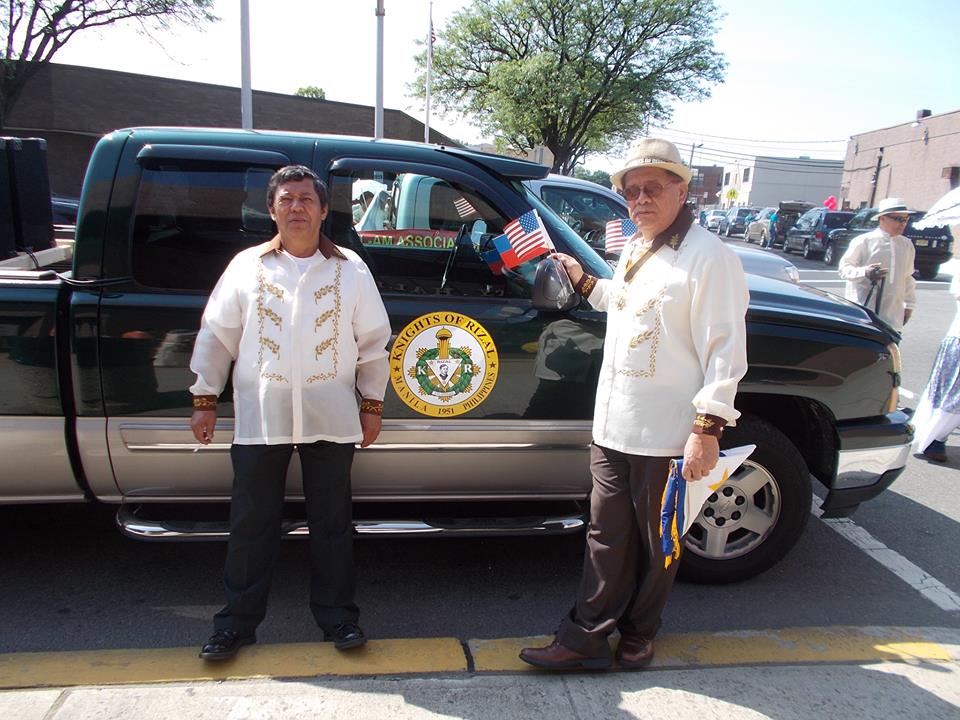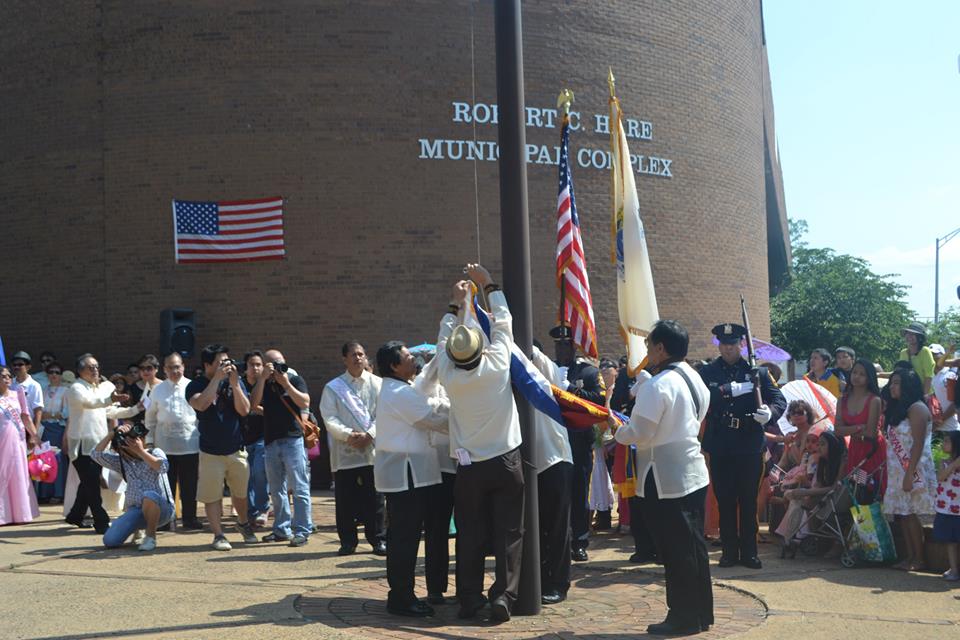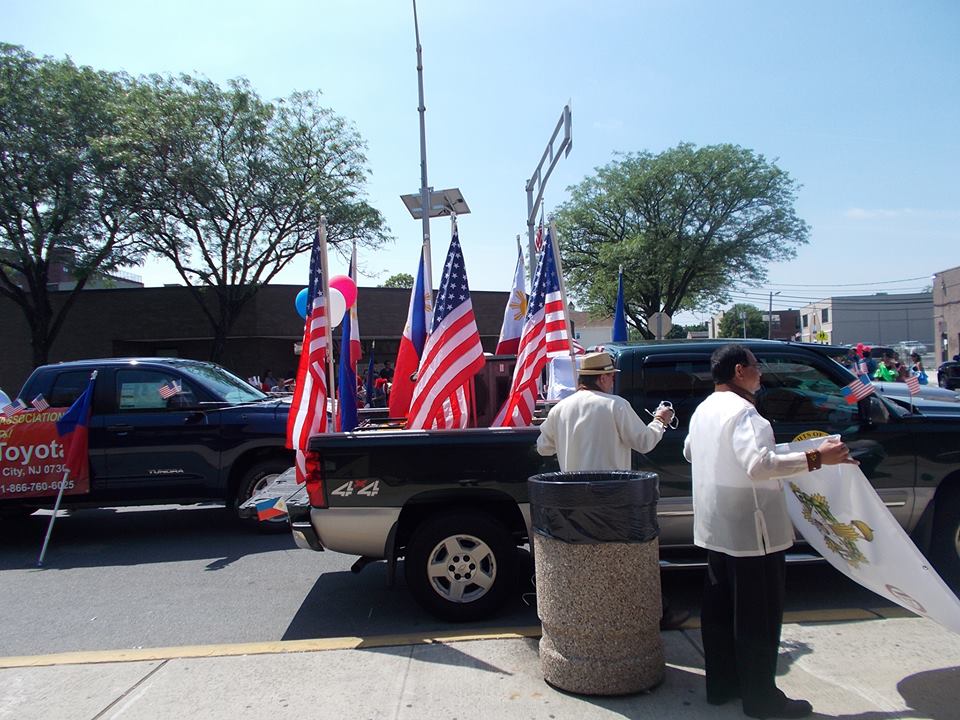 Knights of Rizal, New Jersey Chapter showed a different style in taking the FLAGS to the center of the parade during the 26th PDOC passaic's Philippine Independence Day celebration, June 9, 2013. They were proudly displayed atop Sir Butch Los Banos truck. KORNJ banner waved just behind the award winning champion band of the Passaic High School which spearheaded the parade. KORNJ was also joined by Minister Eduardo De Vega, Philippine representative to the UN, during the entire parade.

Minutes before, was the flag raising at the Passaic City Hall grounds. KORNJ officers and members were the official Flag Bearers: Sir Commander Gali Munar, Sir Archivist Fiorel Salvo, Sir Rudy Casuga and Sir Butch Los Banos.